Best Area To Stay in Bangkok
Bangkok, the vibrant capital of Thailand, captivates with its elaborate shrines and lively street life. Majestic Chao Phraya River carves a path through the city's network of canals as it passes by Rattanakosin district – home to exquisite Grand Palace and sacred Wat Phra Kaew Temple.
The diverse culture of Bangkok is reflected in the bustling Chinatown and its lively markets, colorful flower garlands, delicious street food, and high-end restaurants. An eclectic range of attractions – from exciting nightlife districts to peaceful city parks – continues to draw visitors from across the world.
Whether you are looking to see endless shopping opportunities or a fun-filled getaway, in the city Bangkok is a destination that offers something for everyone. Experience the alluring charm of this timeless city and create memories to last a lifetime.
The best areas where to stay in Bangkok for first-timers are neighborhoods of Sukhumvit, Siam, Silom, Old Town, Chinatown, Khao San Road, Riverside, and Pratunam. These districts all have plentiful hotels to choose from, as well as a wide variety of other tourist attractions to enjoy.
Are you a first-time traveler to Bangkok who's looking for the best place to spend for few nights? Whether it be exploring the local nightlife, sightseeing, or shopping that you're after, this post is here to get help! With its convenient public transport system — close to BTS Skytrain and underground MRT — Bangkok is one of the most accessible cities in Thailand.
Best Places to Stay if you are visiting Bangkok for the first time
1. Khao San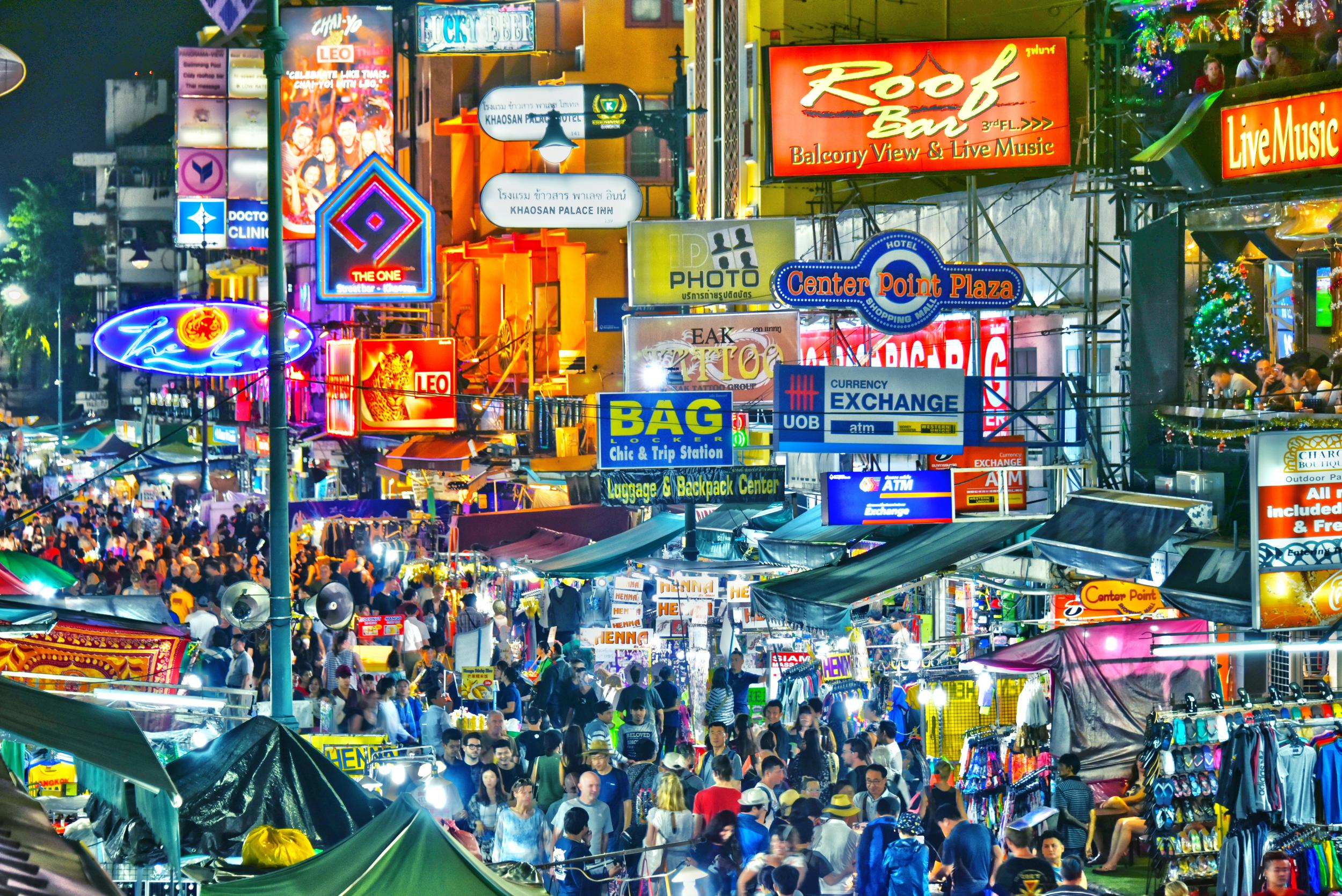 Khao San Road is a vibrant and bustling 1 km stretch of shops, bars, restaurants, and street food vendors. It's centrally located and close to many of Bangkok's top attractions (like the Grand Palace).
People either love it or hate it but it is well worth a visit. If you are arriving late at the night and don't have a hotel reservation Khao San Road should be your top choice as the neighborhood stays up late and is easy to traverse on foot.
Exploring the nearby sois (sidestreets) of Khao San reveals an authentically Thai feel. Khao san road is also filled with art attractions. Unfortunately, there is no direct connection to this area via Skytrain or Metro; however, buses and tuk-tuks are abundant here.
Not only that but basic amenities such as ATMs, money exchanges, and internet cafes are plentiful too. Cheap accommodation paired with cheap eats makes it a great spot for those on a tighter budget – especially when you consider some of its noteworthy neighborhood attractions like Soi Rambuttri and Baghdad Café.
Other must-sees in Khao san road include Gecko Bar, Mr. Yim's Wat Pho Temple complex & Wat Arun temple, Poutine sans Frontieres restaurant plus Santichai Public Park – all simply perfect for exploring Bangkok's unique cultural charm from ground level.
Where to stay in Khao San?
We recommend staying at Casa Nithra Bangkok, Royal Rattanakosin Hotel, Casa Vimaya Riverside Hotel, Villa De Khaosan and the Nouvo City Hotel.
2. Bangkok Riverside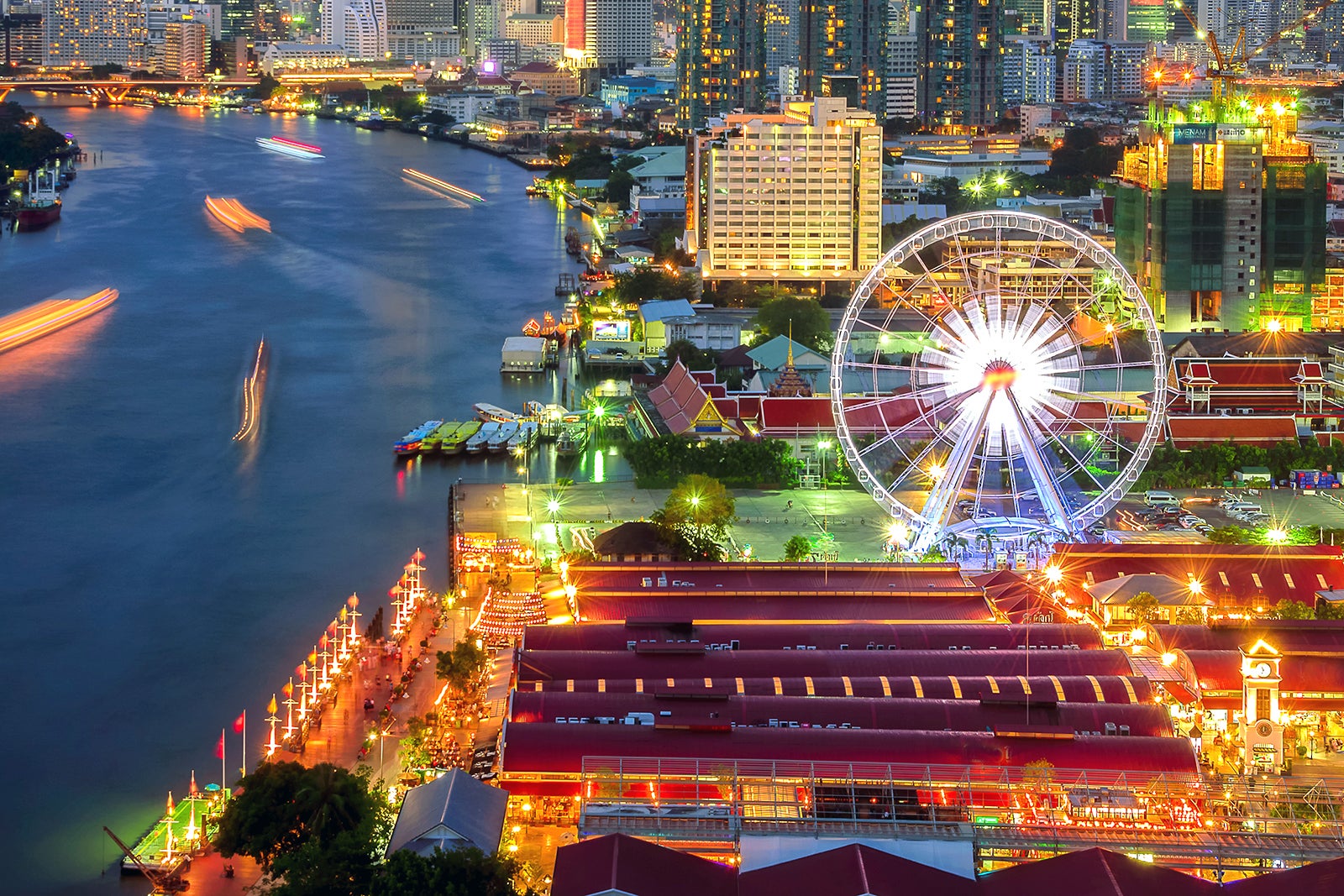 If you're visiting Bangkok for the first time we suggest exploring Bangkok's riverside to have a stunning experience, especially after nightfall with its illuminated temples and shrines along with the breathtaking Royal Palace. Here you can discover Thailand's capital city which was founded centuries ago by Chinese immigrants who settled around the Chao Praya river.
This place also offers luxury 5-star hotels as well as quaint boutique guesthouses in traditional Thai houses that are located right beside the river – perfect for those looking for an exquisite yet intimate accommodation.
This area is a best place to stay for travelers who are looking for the perfect balance between action and relaxation. There is plenty of sightseeing – to see and do, from mesmerizing temples ( Wat Phra Kaew, Wat Arun & Grand Palace) to vibrant floating markets – sweet treats and souvenirs are easy to find in the city!
It's also easy to get around here, with two express train lines (it's right on the BTS and MRT) serving the area plus plenty of buses available. Finally, it's great for foodies – many of Bangkok's most famous restaurants are located along this stretch of the river.
Where to stay in Bangkok Riverside?
We recommend staying at Shangri-La Hotel, Bangkok, Four Seasons Hotel Bangkok at Chao Phraya River, The Peninsula Bangkok Hotel, Anantara Riverside Bangkok Resort, and the ibis Bangkok Riverside Hotel.
3. Sukhumvit Area
Located in the hub of Bangkok, Sukhumvit is an incredibly modern and cosmopolitan part of town. There are Skytrain stations on the area, MRT lines nearby, lovely shopping opportunities, large supermarkets galore, and a variety of superb restaurants offering delicious dishes.
This area is home to many luxury hotels, making it the perfect place for those who want to remain close to all of the action. Sukhumvit is also for nightlife lovers – from renowned dance clubs like Insanity Nightclub and Nunglen Bar, to chic rooftop lounges (like Vertigo ), there is something for everyone here.
If you're looking for a more relaxed evening, explore the streets of Sukhumvit and you'll find plenty of cafes, bars, and pubs to keep you entertained.
Where to stay in Sukhumvit Area?
Carlton Hotel Bangkok Sukhumvit, Sheraton Grande Sukhumvit and the Sofitel Sukhumvitin in Bangkok.
4. Silom Area
By day, Silom is Bangkok's Wall Street – a financial hub for the city bustling with local and international institutions, law firms, and companies whose names shine in lights from their skyscraper windows.
Come nightfall, however, this area undergoes an incredible transformation; suddenly alive with people as the small sois between Silom Road and Surawong Road becomes filled with street life including sidewalk stalls & yummy vendors. Tourists and locals travel to the iconic Patpong red-light district; home to an abundance of go-go bars, brothels, and luxurious hotels located on Sathorn street.
There are several attractions nearby including Bangkokian Museum, Indian Hut Restaurant, Daimasu Izakaya Bar & Grill, Patpong Night Market, and Sky Bar. Plus easy BTS access for your convenience. Silom is one of the best areas to stay in Bangkok.
Where to stay in Silom Area?
The best place to stay in Silom Area is in Pullman Bangkok Hotel G, Le Méridien Bangkok and the Siri Sathorn Bangkok by UHG.
5. Siam Area
Shopping in Bangkok? Look no further than Siam! This bustling area is home to the highest concentration of malls, featuring famous names such as MBK, Siam Paragon, Central World and more. When you're looking for a diverse selection of stores and eateries under one roof, head over to Siam Center or Central Chitlom – perfect for an afternoon getaway.
You can easily walk in between these shopping malls and shop till you drop. There are plenty of restaurants, cafes, and bars around Siam Square and the surrounding streets, so you can enjoy a delicious meal or drink without ever having to leave the area. Siam is definitely one of best area to stay in Bangkok.
Where to stay in Siam Area?
Some of the best hotel in the city are Grande Centre Point Hotel Ratchadamri Bangkok, Grand Hyatt Erawan Bangkok, Centara Grand and the Bangkok Convention Centre at Central World.
6. Chinatown Area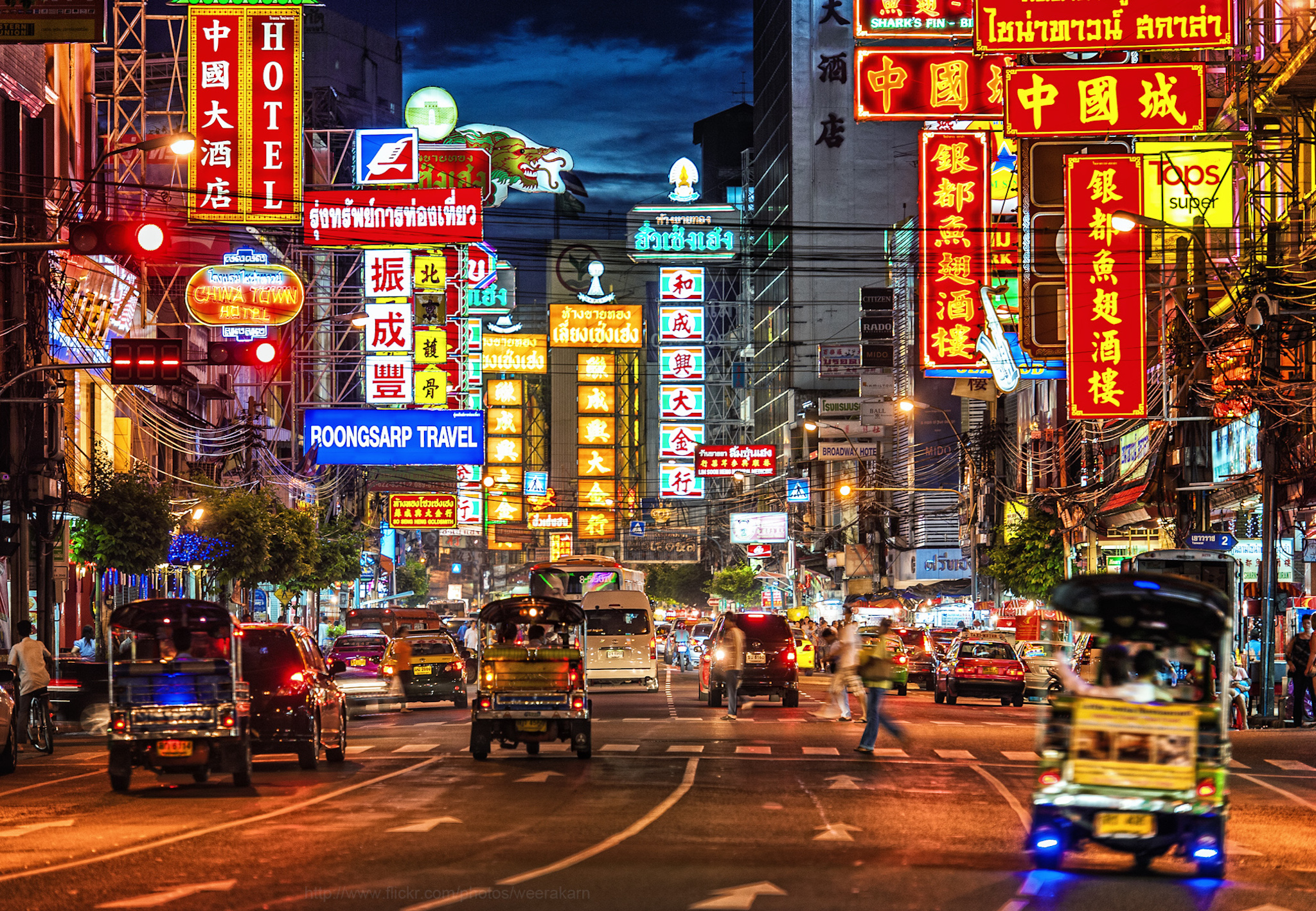 Chinatown is jam-packed with energy, sounds, smells, and vivid neon signs. Yaowarat Road is the nucleus of activity in this area and it comes to life at night when thousands of Bangkok residents come here for some delicious street food that's been hailed as world-class!
If your tastebuds are craving something delicious, this is the best area to stay in Bangkok! From succulent seafood to roasted duck and dim sum dishes, there's plenty of traditional Thai fare to choose from.
Plus, many restaurants have been around for years with menus boasting only one specialty dish – a definite sign that they've perfected their recipes year after year.
7. Pratunam Area
Shopping lovers who want to wander away from the beaten path and score a good deal will be delighted with Pratunam. Although not as polished as Siam, its vibrant markets have an appeal all of their own. Better yet, you can also enjoy some stunning views of Bangkok's skyline after shopping – so make sure to celebrate your finds atop one of its rooftops!
Pratunam is also home to the Pratunam Market – the largest outdoor market in Bangkok. This vibrant destination boasts a variety of stalls selling everything from clothes and shoes, to accessories and gifts – all at reasonable prices.
There's no better place to pick up souvenirs for your friends back home! Pratunam is definitely a great
place to be if you want a unique, authentic Bangkok shopping experience.
To make the most of Pratunam stay at Pratunam Pavillion Hotel – located right in the heart of this bustling area. Not only will you be close to Pratunam Market but there's also an increase in your chances of finding the best deals by checking out Pratunam Market on weekdays when it's less packed with tourists. Pratunam is definitely one of the best area to stay in Bangkok.
Where to stay in Pratunam Area?
8. The International Airport Suvarnabhumi Area
Situated a bit outside of metropolitan, Suvarnabhumi International Airport is the best area to stay in bangkok for travelers to have an unforgettable and exotic experience. Here you can explore Thai customs at small local markets, or even visit an exact replica of Thailand.
Moreover, the airport is connected to downtown Bangkok via BTS' Airport Link – so it's only minutes away from all that this vibrant city has to offer!
If you're looking for convenience and comfort, Suvarnabhumi International Airport is the perfect place to stay. There are a variety of hotels located right in the airport, so you can rest assured knowing that your flight won't be delayed or canceled due to traffic. Plus, it's only a short ride away from downtown Bangkok – so you can enjoy all of the city 's attractions without having to worry about commuting.
The Best 5-star hotels to stay in Bangkok
Banyan Tree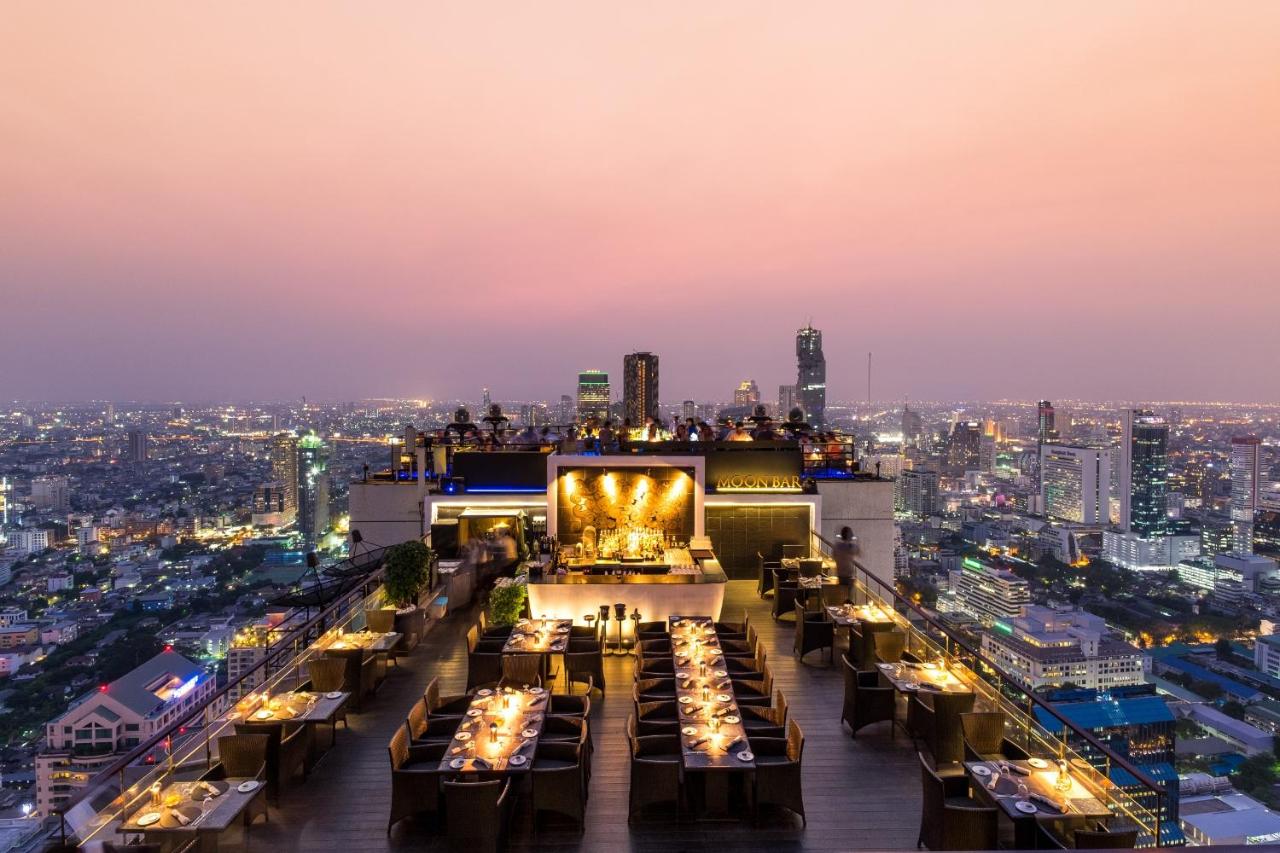 Find all the excitement of Bangkok one place, at Banyan Tree Bangkok! Conveniently situated in Sathon/Silom area, this 5-star hotel is unrivaled for its opulence and extravagance.
Overlooking the city skyline, indulge yourself with ample shopping opportunities as well as exotic cuisines from around the world. Or simply unwind and enjoy a rejuvenating spa experience – winner of countless awards. With top-quality dining choices and luxurious suites, you can be sure that Banyan Tree is one of the best places to stay in Bangkok.
ADDRESS
21/100 South Sathorn Road, Sathorn, Bangkok 10120, Thailand
Mandarin Oriental
Mandarin Hotel is one of the best places to stay in Bangkok. For over a century and a half, guests have been flocking to the historic Mandarin Oriental Bangkok situated on the Chao Phraya River. Our five-star hotel offers unparalleled luxury in one of the most vibrant cities in the world with an unrivaled reputation for quality service, sophistication, and superiority.
A serene oasis situated on the banks of the river and boasting a 146-year legacy, Mandarin Oriental, Bangkok is an extraordinary hotel. Recently renovated to modernize its features while preserving its classic Thai charm and resort ambiance – The River Wing offers guests delightfully upgraded accommodations that are sure to make your stay unforgettable.
Whether you're looking to pamper yourself with a massage, take a dip in the swimming pool, or explore all that Bangkok has to offer – Mandarin Oriental is the perfect place for your stay.
Address
48 Oriental Avenue, Bangkok 10500, Thailand
Anantara Siam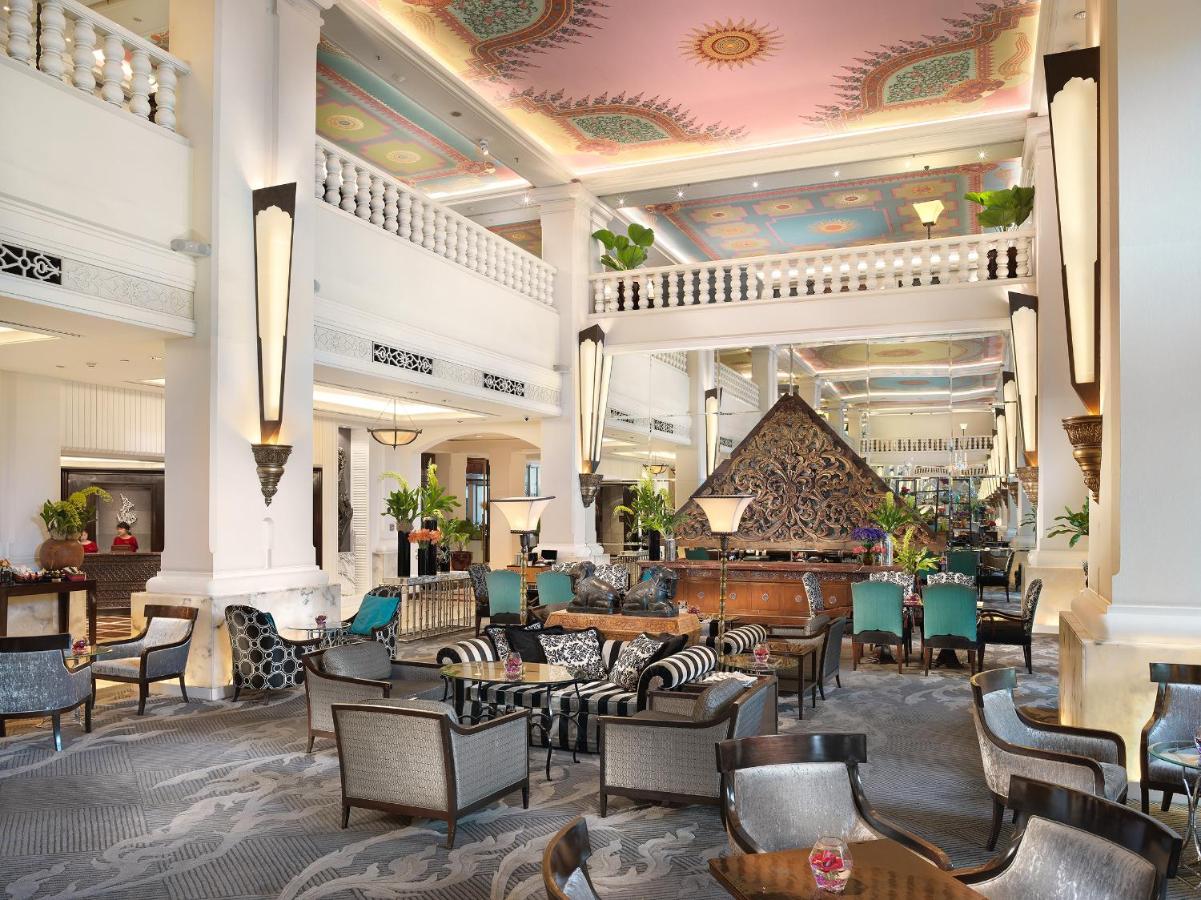 Located a brief stroll away from Ratchadamri Skytrain Station, Anantara Siam Bangkok Hotel offers an opportunity to experience the pinnacle of Thai luxury right close to the city. The hotel features a spa and outdoor pool as well as complimentary parking, while rooms boast exquisite touches such as teak furniture and traditional Thai silk décor.
Every stay includes modern amenities like flat-screen TVs with DVD players along with grand en suite bathrooms that showcase beautiful carved wooden furnishings for an unforgettable experience.
Located within a 10-minute walk to Central World Plaza and Lumpini Park, Anantara Siam Bangkok Hotel is the ideal destination for your vacation. On top of that, Bumrungrad International Hospital is only 12 minutes away by car. With Suvarnabhumi International Airport also just 25 km from our hotel, we can say that this is also one of the best places to stay in Bangkok.
ADDRESS
155 Ratchadamri Rd, Lumphini, Pathum Wan, Bangkok 10330, Thailand
Siam Kempinski
Offering the utmost in luxury and convenience, the five-star Siam Kempinski Hotel Bangkok is a magnificent haven situated ideally in Thailand's vibrant capital city. Whether you're traveling for business or pleasure, this hotel offers everything need to experience an unforgettable stay.
Conveniently located adjacent to the illustrious Siam Paragon and within walking distance a short stroll of the BTS Skytrain, Siam Kempinski offers guests both business-related activities and leisure attractions. The hotel's contemporary rooms are decorated with traditional Thai design elements, most of which feature private balconies that offer spectacular views of our lush gardens and swimming pool.
If you're looking for accommodation steeped in elegance yet close to all major attractions, come stay at Siam Kempinski!
With three restaurants and bars, the hotel offers its guests an unparalleled experience. Most notable is Michelin Star Sra Bua by Kiin Kiin—winner of numerous awards and recognized for its excellence in cuisine. The premium spa and health club offers an escape from the hustle of everyday life, providing a tranquil atmosphere for complete rejuvenation.
ADDRESS
Siam Kempinski Hotel Bangkok, 991/9 Rama I Road, Bangkok, 10330, Thailand
The Best Mid Range Hotel to stay in Bangkok
Bangkok Marriott Hotel Sukhumvit
Located in the heart of one of the city's liveliest and trendiest neighbourhoods, this 4-star hotel is one of the best areas to stay in Bangkok that offers some of the best hotel rates . Whether you're looking for a relaxing spa session or an evening of exploring the nightlife, Bangkok Marriott Hotel Sukhumvit has something for everyone.
The hotel features modern and spacious rooms with plenty of natural light and some providing stunning views of the city skyline. The bathrooms are equipped with luxurious amenities, while the facilities include two restaurants, 24-hour fitness centre, and a rooftop pool with sundeck.
The hotel also offers complimentary shuttle service to get around some of the nearby attractions, such as Terminal 21 shopping mall, Asoke BTS station, and Emporium Shopping Mall.
Additionally, Bangkok Marriott Hotel Sukhumvit have a great base for exploring, with plenty of restaurants and bars within walking distance. With its convenient location, modern amenities, and great rates, this is the perfect place for a mid-range stay in Bangkok.
Address
2 Soi Sukhumvit 57, Klongtan Nua, Watthana, Bangkok 10110, Thailand
Royal Orchid Sheraton
The Royal Orchid Sheraton is a great place to stay if you're looking for a mid range hotel with luxurious touches. Located along the Chao Phraya River with easy access to's most popular attractions, this 4-star hotel features modern rooms and suites with all the amenities of home.
The hotel also have a variety of dining options, ranging from international fare to traditional Thai cuisine. There are two outdoor pools and two well-equipped fitness centres.
In addition, the Royal Orchid Sheraton boasts an impressive Spa with massage therapy, sauna facilities, yoga classes and more. With its convenient location, great amenities, and extensive dining options this is one of the best areas to stay in Bangkok.
Address
2 Charoen Krung 30, Bang Rak, Bangkok 10500, Thailand
Eastin Grand Hotel Sathorn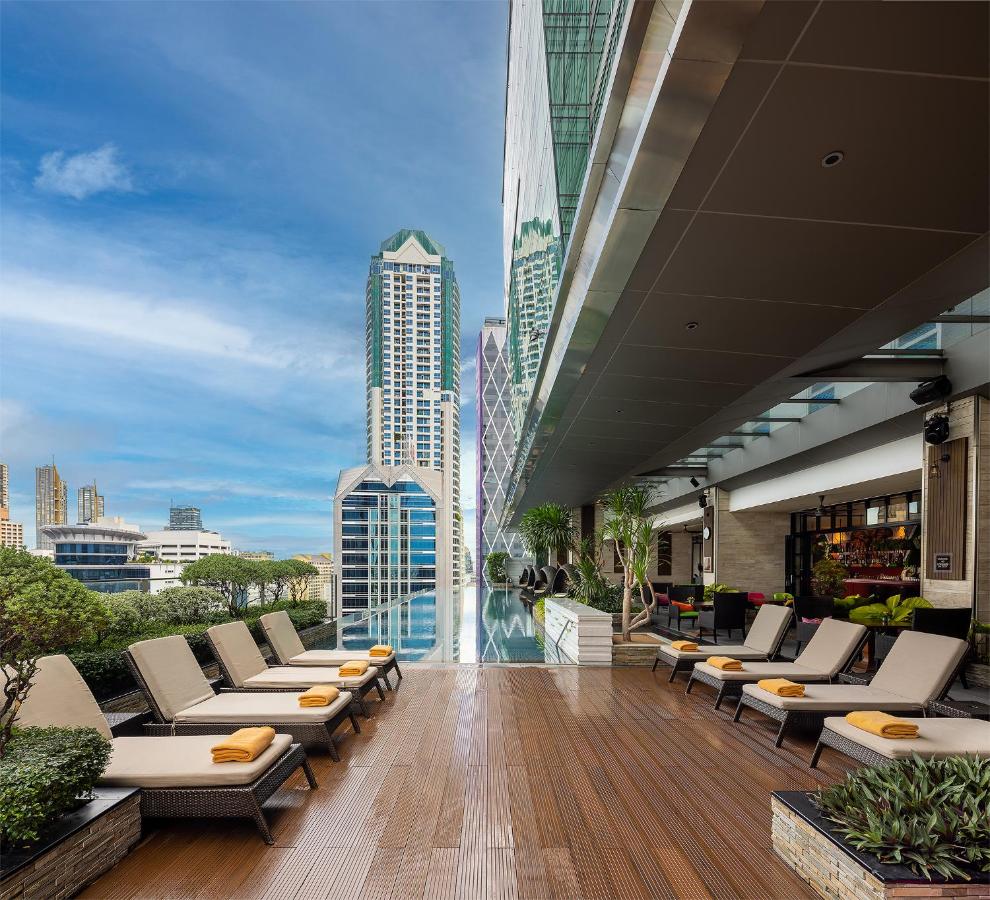 The Eastin Grand Hotel Sathorn is another 4-star hotel and one of the best areas to stay in Bangkok situated in one of Bangkok's most vibrant neighbourhoods. The spacious rooms and suites are beautifully decorated with modern furniture and come equipped with a range of amenities, including free Wi-Fi, flat-screen TVs and mini-fridges.
The Eastin Grand Hotel Sathorn also offers guests a variety of facilities, such as a rooftop pool and fitness centre. There are several on-site restaurants, including an international buffet restaurant, Japanese steakhouse and Chinese restaurant. With its convenient location, great amenities and extensive dining options this is the perfect place for a mid-range stay in Bangkok.
These three hotels offer excellent value for money, with all the amenities of luxury hotels and easy access to Bangkok's most popular attractions. Whether you're looking for a luxurious stay or a budget-friendly option, these are the best mid-range hotels in Bangkok. So if you're planning a trip to Thailand's capital city, one of these hotels is sure to make your stay memorable!
Address
33 1 S Sathon Rd, Khwaeng Yan Nawa, ยานนาวา Bangkok 10120, Thailand
Best Budget Hotel in Bangkok
Buddy Lodge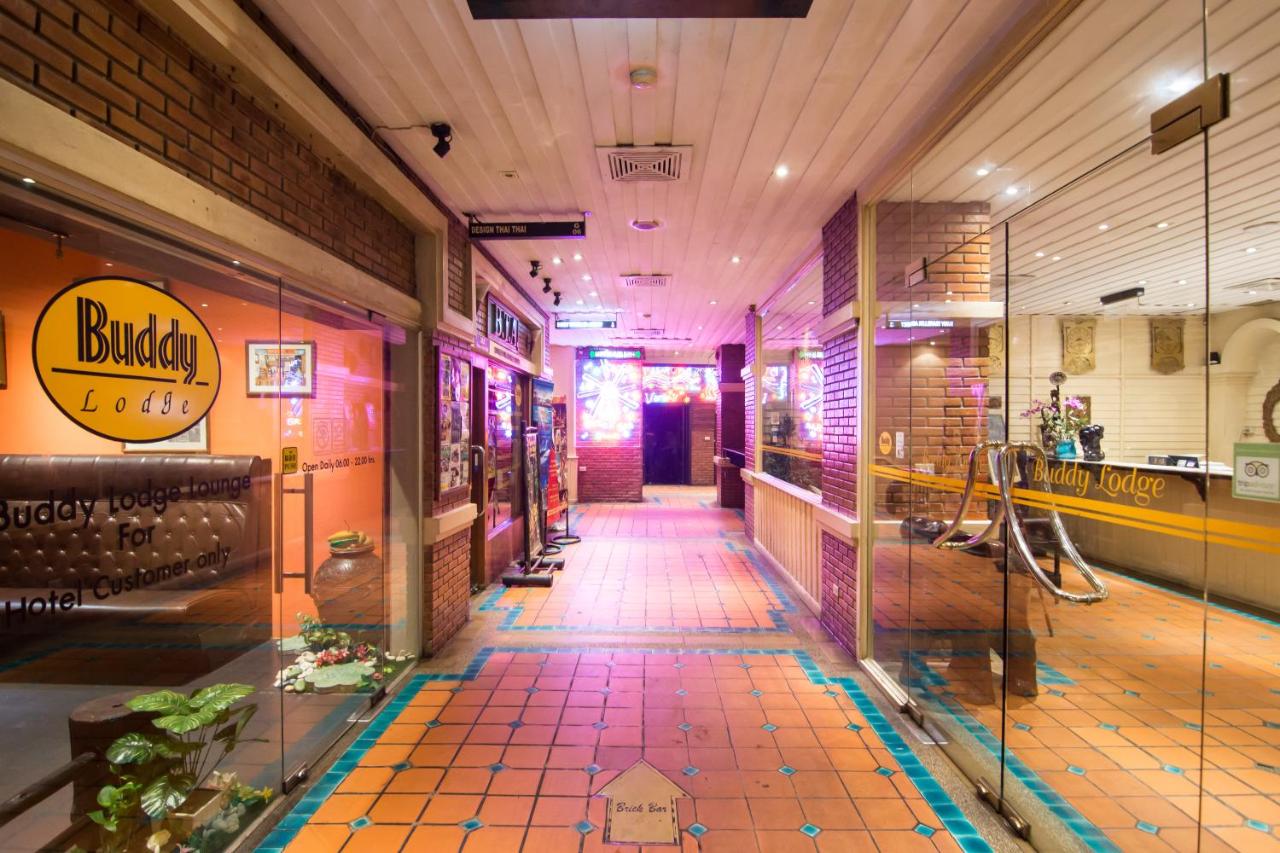 If you want to save money, Buddy Lodge offers modern Thai-style accommodation with numerous facilities, including a fitness centre and rooftop pool. Located in the heart of lively Khao San Road, it is surrounded by shops, restaurants and spas. Free WiFi is available throughout.
The Buddy Lodge is conveniently located near Bangkok's most iconic and historically-rich attractions like Wat Bowonniwet Vihara (600 m), Temple of the Emerald Buddha or Wat Phra Kaew (1.8 km) and Grand Palace (2.4 km). Additionally, Suvarnabhumi Airport is just a 33 km drive away.
At Buddy Lodge, you can relax on the air-conditioned rooms with private balconies and dark wood furnishings. To make your stay more comfortable, each room is equipped with a safe store personal items as well as a fridge for refreshments. In addition, the bathrooms are adorned with marble walls and come complete with toiletries such as hairdryer so you can feel at home.
When you want to relax and refresh, come lounge by the rooftop pool with a delicious beverage from our convenient poolside bar. For extra pampering take advantage of our luxurious sauna and steam baths. And don't forget about all there is to eat! Buddy's offers 24-hour dining options at Mulligan's Irish Pub and Brick Bar where you can sample an array of international delights as well as traditional Thai favourites.
Address
265 Khaosan Rd, Taladyod Pranakorn Bangkok 10200, Thailand
Ibis Styles Khaosan Viengtai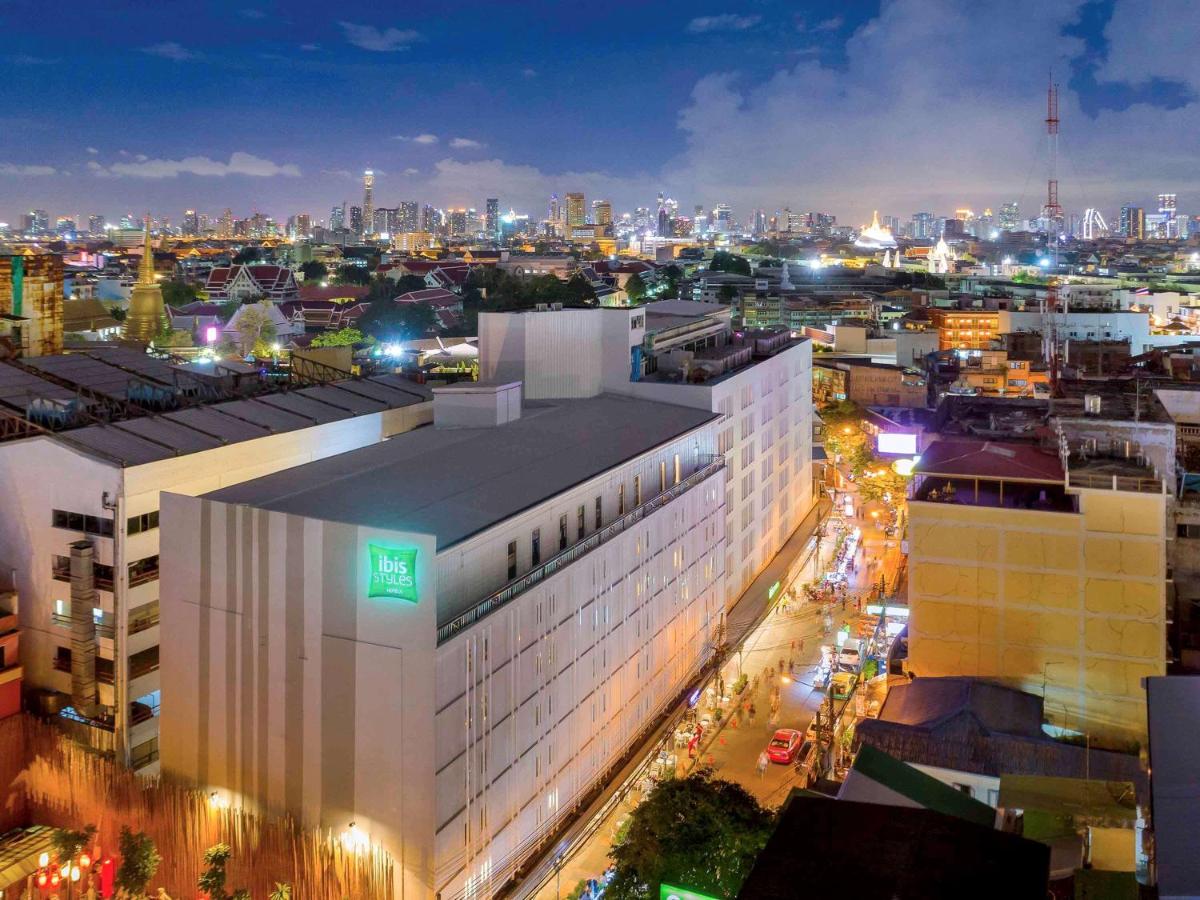 If you want to experience the vibrant city of Bangkok, stay at ibis Styles Bangkok Khaosan Viengtai! Located in the bustling Banglampu District, next to Khao San Road, guests can enjoy stunning views from our outdoor pool and free parking. Plus, with complimentary WiFi access in all rooms, you'll be sure to stay connected during your visit.
ibis Styles Bangkok Khaosan Viengtai is a hotel located 1.5km from the Grand Palace and Wat Phra Kaew, with a 28 km distance to Suvarnabhumi International Airport. To make your stay more comfortable, all rooms come fully equipped with air conditioning, a mini bar, and an attached bathroom. In addition to that, guests can enjoy access to cable TV in their room for entertainment purposes.
For a stress-free journey, the hotel offers currency exchange services and tour desk arrangements for sightseeing. Moreover, to make sure you have clean clothes throughout your stay, laundry and dry cleaning services are also available!
Address
42 Ram Buttri, Khwaeng Talat Yot, Khet Phra Nakhon, Bangkok 10200, Thailand
Novotel on Siam Square
Whether it is spa pampering, sunbathing next to the pool, or sampling delicious fresh Dim Sum, Novotel on Siam Square in Bangkok has it all. Close to shopping heavens, it features a large outdoor pool with a sauna room and a day spa. The hotel also provides free WiFi in all areas.
Guests can relax on the room with a plasma TV, a seating area, and tea/coffee making facilities. A minibar and 24-hour room service are provided.
Novotel Bangkok on Siam Square is conveniently located just a minute's walk from the BTS Skytrain Station and offers guests an array of activity classes, free parking, and a tour desk at their fitness centre. Meanwhile, The SQUARE restaurant nearby serves up delectable international dishes as well as signature Asian recipes for you to relish in.
Plus, it also provides easy access to some of the top shopping centers like MBK Centre , Siam Paragon Mall and Central World Plaza – making your visit truly complete!
Frequently Asked Questions About Where to Stay in Bangkok for the first time
Q: Where's the best neighborhood to stay in Bangkok?
A: Undoubtedly, the most remarkable neighborhood in Bangkok is Siam. It is centrally located and fun-loving with a pocket of exciting places to explore! What's more? This place also features some of the world-class hotels in Bangkok.
Q: What are the average rates for hotels in Bangkok?
A: From luxurious five-star hotels with an average price of 117 USD per night, to two-star establishments for just 19 USD a night – Bangkok offers a great accommodations that fit every budget. With 114 spectacular five-star properties, 400 advanced four-stars and 1012 comfortable three stars; you can even stay at one of Bangkok's nicer lodgings for only 40 US dollars.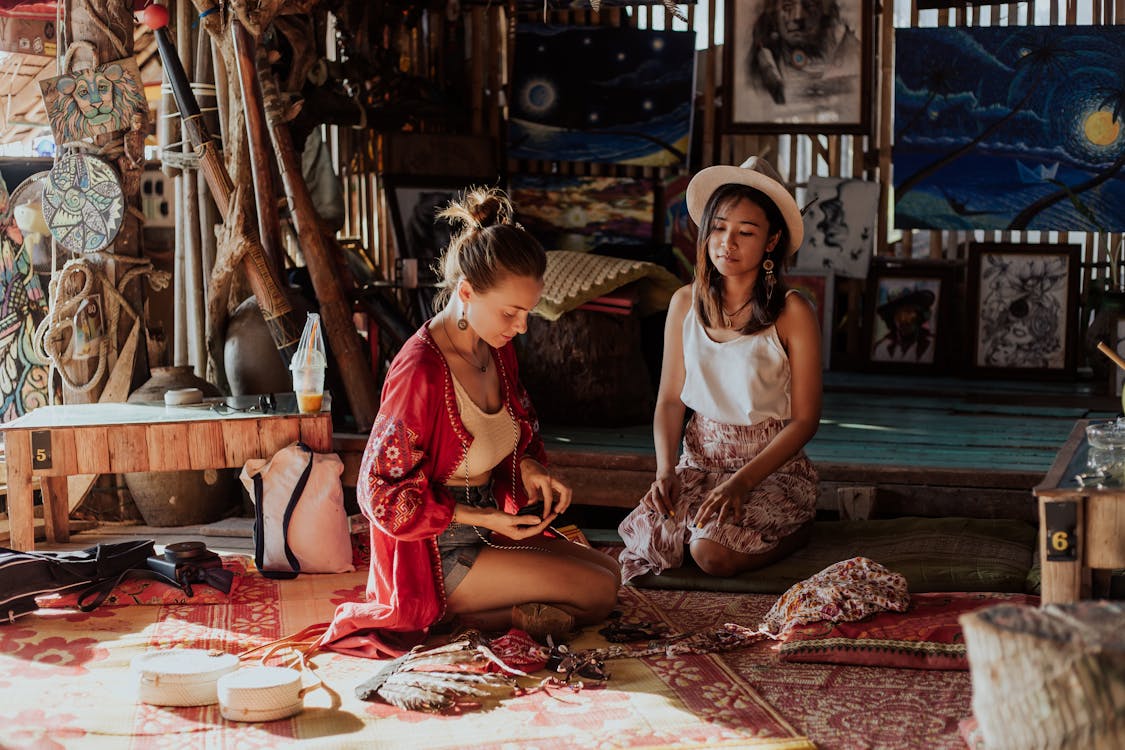 Q: Where's the most romantic place to stay in Bangkok?
A: The Mandarin Oriental offers a great experience for newlyweds and honeymooners. This luxurious 5-star hotel is located in the heart of Bangkok, near the Chao Phraya River is perfect if you were to stay in Bangkok for first time. From here you can take a romantic boat tour along the river, with views of beautiful temples and other attractions. Guests can also enjoy the spa, private pool, and rooftop bar for a romantic night out. Plus you'll have access to all the amenities of a luxury hotel — plush robes, 24-hour concierge services, and more.
Q: Is it safe for tourists in Bangkok?
A: Yes, Bangkok is generally a very SAFE city for travelers of all ages. Locals are friendly and helpful to visitors, and most tourist areas have increased police presence. However, it is always recommended to practice caution when traveling any new place. Be aware of your possessions and never accept drinks from strangers, as this can be a common way of drugging tourists in order to rob them. Additionally, take extra care when alone in the evening and avoid walking down dark alleys or deserted streets at night.
Bonus: Bangkok Travel Tips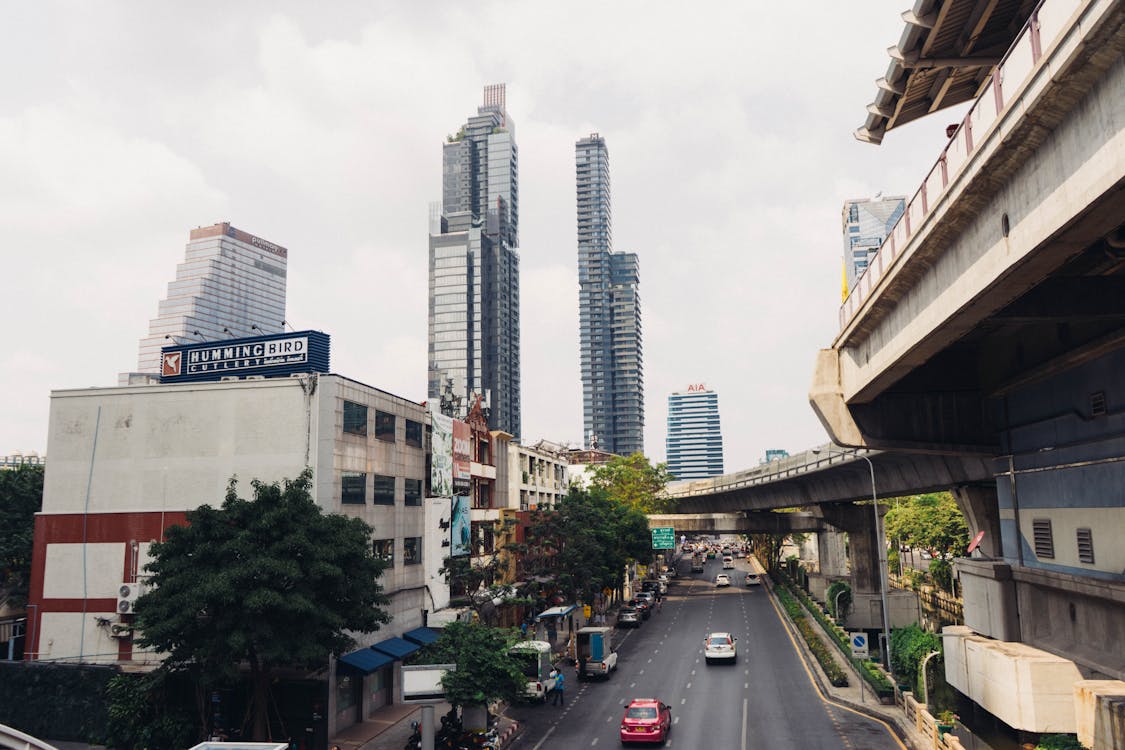 If you're looking for a perfect time to visit Bangkok, late November, and early December is ideal. This period marks the city's drying out from its monsoon season with temperatures starting to cool down, yet without an influx of holiday travelers. For beaches or tropical islands in Thailand, the best time span would be between December and March when visitors can expect optimal weather conditions.
It is important to be prepared with the right kind of clothes when visiting Bangkok. Due to its tropical climate, light, breathable clothing and comfortable sandals are recommended. Bring a hat, sunglasses, and sunscreen if you plan on sightseeing outdoors.
Thank you for reading this guide to the best places to stay in Bangkok we hope it helps you make the best choice for your stay in this beautiful city.